Industrial Ventilation
 ----Moffitt Corporation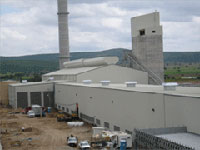 As provided by Moffitt, we offer gravity ventilation, louvers, wind powered roof exhauster's, ridge vents and low profile gravity vents.  Panel fans, axial fans, utility sets and OEM fans.  Gas fired Air Make-Up systems.  Gas fired Air Rotation systems.  Industrial ventilation fans are available in choice of metals and fiberglass.  
We are expert in gravity ventilation of large industrial buildings without using power.  Gravity systems rely on thermal draft to ventilate large heat producing buildings including forges, foundries, steel mills, paper mills, glass plants and other similar buildings.  Large mono-vent, ridge ventilators are typically used in glass manufacturing plants and major forge operations at the roof peak to exhaust warm air.  Louvers on building sidewall allow fresh air ingress.  Powered wall fans provide supplemental fresh air to compliment the "Moffitt Pressure-Gravity System."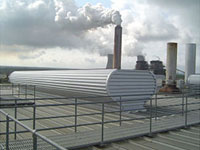 Moffitt wind-powered roof ventilators eliminate use of electric motors for roof ventilation requirements.  Most industrial facilities require roof level exhaust and side-wall air intake.  Moffitt can provide this ventilation without using power: no electric motors or wiring to the roof area.  Ventilate your building without using electricity with Moffitt GreenRoo "wind-powered" roof ventilators and Moffitt side-wall louvers and save on maintenance and utilities.  We rebuild and service all gravity ridge ventilators including Robertson and Moffitt.  Moffitt designs cutting edge industrial ventilation systems using CFD modeling of the entire steel mill or glass plant to verify flows and temperatures.  Moffitt can provide "Pressure-Gravity" ventilation systems for most major industrial facilities. 
----Continental Fan Manufacturing
Continental Fan Manufacturing offers a superbly crafted collection of industrial ventilation products.   All CFM fans and blowers are AMCA certified.  CFM provides customer focused solutions of yourapplication, by working with you for the best product solution for your application.  CFM's product line includes panel fans, centrifugal fans, flange fans, in-line fans, roof ventilatiors and iris dampers.
| | | |
| --- | --- | --- |
| | | |
| CFM axial fan | ---Continental Fan Manufacturing (CFM) | ---Moffitt Corportion |